Sunday Shodipe is a 19-year-old resident of Ibadan, Oyo State.
In July 2020, he was arrested in connection with a series of killings in Akinyele local government area of the state.
Shodipe is alleged to have murdered four women and a 10-year-old boy in the area of the state.
On July 17, 2020, he was paraded at the Oyo State Police Command Headquarters. Shodipe was paraded together with two other accomplices including his purported master, Mr Adedokun Yunusa (herbalist) in connection with the killings.
Shodipe said he got N3000 (less than $8) and food for all the persons he murdered.
However, on 11th August 2020, he escaped from the custody of the Oyo state's police command.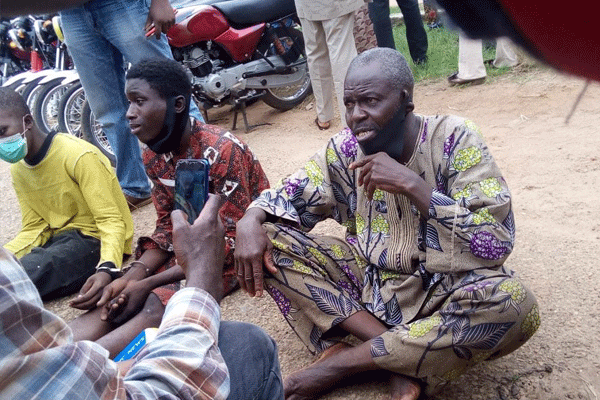 In a statement issued by its Public Relations Officer (PRO), Oyo State Police Command, Mr Olugbenga Fadeyi, the suspect was said to have escaped after he was charged to court.
Interestingly, two days after Shodipe's escape, a certain Mrs Oladejo Funmilayo was gruesomely murdered at Onikeke village, Akinyele town where Shodipe's last brutal murder before his arrest occurred.
The police have announced a handsome reward of Five hundred thousand Naira only (N500,000) for whoever gives useful information for the arrest Sunday Shodipe.
The Command can be contacted on GSM Numbers: 08035632410 and 07066003536.
Sunday Shodipe Victims
Those that Sunday Shodipe is alleged to have killed include:
Barakat Bello at Akinyele Town (May 31, 2020)
Azeezat Somuyiwa at L-Adisa area (June 5, 2020)
Grace Osiague at Idi-Ori area (June 13, 2020)
Mujeeb Tirimisiyu at Tose area (June 23, 2020)
Olusayo Fagbemi Aisha at Sasa area (June 24, 2020)
Dolapo Bamidele and her mother Deola Bamidele who were cold-bloodedly macheted at Alaja area (June 29, 2020).
Another woman, name unknown was killed at Elekuru area (July 1, 2020),
Omotoke Grace, at Onikoro area Moniya (July 20, 2020).